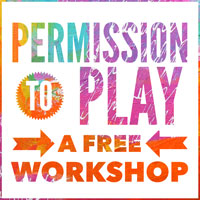 Coincident with my desire to get messy with paint, I found
Carolyn Dube's free mixed media workshop, "A Permission to Play".
The premise seemed to answer my desire - I was looking simply for permission to play! I'm still in the middle of it, and look forward every three days to the release of the next video.
One of her recurring themes is to free your creativity by using art materials which aren't precious. At the beginning of the series, she leads you through making an art journal out of an old cardboard box. I didn't follow the instructions (I think that's allowed if we're giving ourselves permission to play), but instead starting using pages of scrapbook paper. Why was that?
Towards the end of October, I was noodling around on StampingMathilda's blog and found
a post about using up her scrapbook paper.
I'm not sure where she got with this plan, but I gessoed a few pages of scrapbook paper with the plan to make a new journal. The binding of the journal never happened, and Carolyn Dube works on unbound pages in her workshop. So, eager to play, rather than make another journal, I grabbed what was closest - gessoed scrapbook paper. Will it ever get bound? Who cares - I've given myself permission to just play!